FREE DOMESTIC SHIPPING
ON ALL ORDERS OVER $100
Shop Location
13 County Road E.Freetown, Ma 02717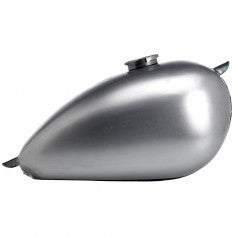 Lowbrow Customs P-Nut Gas Tank
$ 169.95
Brand Lowbrow Customs
One great way to save money at the pump is to buy less at every fill-up. At just 2 gallons, our new P-Nut is about as small as a chopper tank can get. Lower fuel capacity means you'll have more time for bumming smokes and shooting the shit at every gas stop. The Lowbrow P-Nut tank features heavy gauge steel construction (tank shells are stamped from 1mm (approx. 19 ga. steel) , 1/4" NPT petcock bungs and undrilled DIY mounting tabs for custom installation. It takes a British-style gas cap for unparalleled chopper authenticity.

Nothing changes the look of your hand-built death trap like a new gas tank. Lowbrow Customs is stoked to be offering this Wassell style peanut tank. No more scouring eBay or swap meets and over-paying for an old tank that is rusty, crusty, and likely needs work to repair leaky seams. Our tanks are heavier gauge than the originals, brand new and ready to rock!

Produced in a partnership between Lowbrow Customs & Cleveland CycleWerks.

Tanks are pressure tested at the factory, but it is highly recommended you or your painter pressure test it again before painting; it's cheap insurance!

Tank Measurements: The total length is 14-1/2" (16-3/4" end of tab to end of tab), 7-1/2" tall (8-3/8" to top of filler bung), and 8-3/4" at the widest point. The tunnel measures 1-3/4" wide, 2-1/4" deep at the tank rear and 5-3/4" deep at the front of the tunnel.