FREE DOMESTIC SHIPPING
ON ALL ORDERS OVER $100
Shop Location
13 County Road E.Freetown, Ma 02717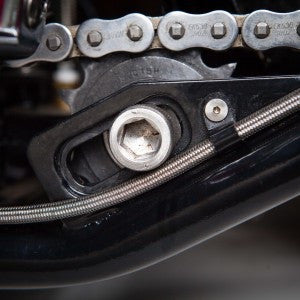 Troy Fab Weld On Chain Tensioner-Left Side Drive
$ 70.00
Brand Troy Fab
15 Tooth "MADE IN USA" Idler sprocket (SEALED BEARING), This is for 530 chain. 5/8″ X 2 1/2″ bolt with lock washer and nut, 1/2″ SS spacer, 1/8″ Counter bore for paint or powder coat clearance. 1 1/8″ between center of sprocket and center of frame rail Left Side Drive. (E-mail me for right side drive)
THIS WORKS GREAT FOR FULL WRAP FENDER APPLICATIONS WHERE YOU CAN NOT MOVE THE WHEEL!
YOU MUST HAVE WELDING SKILLS TO INSTALL. THIS IS A WELD ON PIECE.