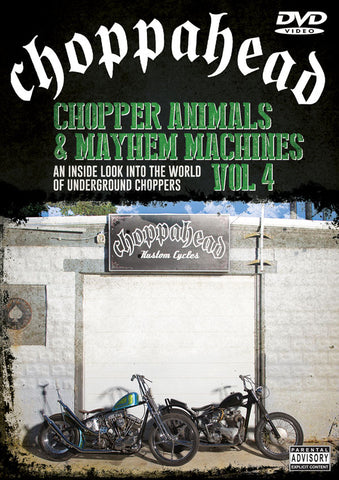 Sale
Digital Download: Chopper Animals & Mayhem Machines Vol. 4
$ 19.95

$ 9.95

Brand Choppahead
Save money & watch it now, with Vol 4 digital!
Note: The digital download version of this DVD is the master from which the DVD's were pressed, so you will be downloading the best quality version in existence. The video file is just under 5GB, so keep in mind that it may take a bit of time to complete the download.
After a 4 year hiatus - Choppahead returns with Chopper Animals Mayhem Machines Vol. 4! Check out interviews/profiles with the Choppahead crew, Chopper Dave, and other builders from Chicago, Las Vegas, New Mexico and all over the country! Plus see footage from bike events/chopper rallies, rides, and drunken shenanigans. Volume 4 has a runtime of well over 2 hours and includes a ton of bonus features and footage!  
Description:
The 4th Volume of Choppahead's award-winning documentary/video magazine series – Chopper Animals & Mayhem Machines, released in November of 2014, is the forth installment to the series. The series documents and pays homage to the home builder and the underground chopper/custom motorcycle scene in the states and overseas – the true essence of Kustom Kulture.
In this DVD you'll follow the Choppahead crew as they go out on-location and scour the nation to film and present hardcore real-deal motorcycle builders – the guys that build in their own garage/kitchen/living room/driveway/wherever – as well as some small grassroots shops, and underground motorcycle shows/rallies. It provides an accurate inside look into the madness, ingenuity, debauchery, and foolishness that surrounds this world! 
For Fans Of:
HOME BUILT CHOPPERS AND KUSTOM MOTORCYCLES
CHOPPER SHOWS / MOTORCYCLE RALLIES
PUNK RAWK Oi!, & HEAVY METAL
SEVERE STUPIDITY & SHENANIGANS
SHOP APPRENTICE ABUSE!