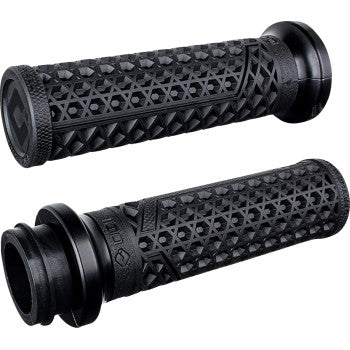 Vans / ODI Lock-On Grips (1") - Black/Black - TBW and Cable
$ 75.95
Brand Vans
Vans / ODI Lock-On Grips
For 1" Harley Bars 
Choose TBW for 2008+ Throttle By Wire Models
Choose "Cable" for 1984+ Models with standard cable throttle
Two Southern California originals have teamed up to create a modern-day classic design for your V-Twin Motorcycle.  Designed in-house at ODI, the  VANS V-Twin Lock-On Grip System feature the classic Vans® waffle sole patterns built to deliver you an amazing riding experience.  Built into a medium diameter grip that provides amazing palm traction while delivering extra vibration dampening.  Each pair of grips are constructed in-house at ODI using proprietary grip compounds for a consistent feel that provides exceptional control in all conditions.  Proudly made in the USA by ODI.

The Vans V-Twin Lock-On Grip System feature the classic Vans waffle sole pattern and are built to deliver an amazing riding experience
100% slip-free performance guaranteed
In-molded throttle tube with integrated application specific throttle actuation
Billet aluminum Lock-On style clutch side clamp eliminates the need for grip glue or safety set-screws, providing simple installation and removal
T15 Torx bolts provide extra secure clamping for solid, twist-free mounting
Proprietary medium-compound durometer improves overall comfort and durability
130 mm overall grip length with flange
Made in the U.S.A.