FREE DOMESTIC SHIPPING
ON ALL ORDERS OVER $100
Shop Location
13 County Road E.Freetown, Ma 02717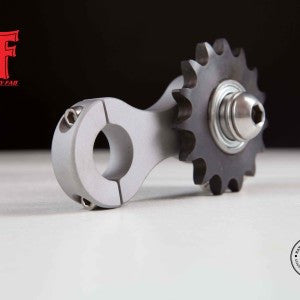 Troy Fab Bolt- On Dogbone Chain Tensioner- 1 1/16" Frame
$ 75.00
Brand Troy Fab
Fits all Hardtails and Bolt-on Hardtails with a 1 1/16″ cross tube. Bolts to 1 1/16″ bottom frame cross tube. Slides left to right and pivots up and down. 15 Tooth "MADE IN USA" Idler sprocket (SEALED BEARING), This is for 530 chain. Machined from 5/8″ steel.
Note: Please verify you have 1 1/16″ tubing for a cross tube.
Sandblasted ready for paint or powdercoat.

This fits on any custom frame or bolt on hard tail that has a 1 1/16″ cross tube to bolt to.