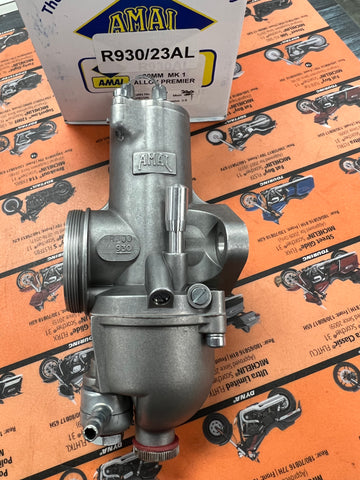 Amal Premier 930 MKI Carb for Single Carb Models (TR6/TR7)
$ 275.00
Brand Amal
New Amal Premier (Alloy) 930
For Single Carb Applications
This single, right-hand AMAL MK1 Premier Concentric Aluminum 30mm Carburetor is jetted for vintage single carb motorcycles (Triumph TR6 650cc and TR7 750cc Tiger) This carburetor comes equipped with a 230 main jet, .106 needle and a #3.5 slide. Ready to roll, and setup right out of the box!  Replace that old, tired, warped carb!
The 900 series AMAL MKI Concentric carburetors have been re-designed to improve performance and wear. This new carb incorporates changes in materials which reduces the rate of slide and body wear as well as a precision engineered idle circuit. This improves the pick-up performance from idle and reduces fuel consumption. The new precision manufactured forged alloy, Hard Anodized Throttle Slide has a low friction surface for smoother operation and greater wear resistance. The ethanol resistant, puncture proof StayUp Float and Viton tipped alloy Needle Valve improve control of the fuel flow. These newer versions are now offered with an aluminum body rather than potmetal, offering weight savings (nearly a pound has been shaved off), and improved wear characteristics that the previous slides had not fully addressed.
Many old Amal carburetors are physically worn out. Common problems include a worn slide and/or a worn bore in the carburetor, causing the slide to be loose. Another common problem is that the mounting flange was overtightened, warping the body of the carburetor. All of these issues cause air to leak past the slide, causing erratic idle, hard starting and the like. These carburetors fix those issues, as they are brand new from Amal in England, original supplier of carburetors for Triumph motorcycles.