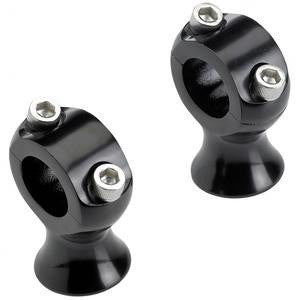 Biltwell Slimline Riser-Black
$ 94.95
Brand Biltwell
Construction: Investment-cast and CNC-machined stainless steel. 5/16" x 18 t.p.i. Stainless steel bar clamp hardware.

Fitment: Slimline risers have 1-3/4" of rise as measured from the base of the riser to the centerline of the handlebar clamp. The bases are threaded to accept 1/2" x 13 t.p.i. bolts (not included.) This is the stock size on late-model Harley-Davidson triple trees with removable risers. Slimline risers retrofit easily to both rubber-mounted and solid-mounted top trees so long as the mounting hole accepts 1/2" O.D. hardware. We have installed Slimline risers on stock and aftermarket Harley-Davidson trees, and late-model Hinckley Triumphs. Consult a service pro if you're not confident in your ability to install this product on your motorcycle.

Details: These units are tried and true and loved by builders around the world. Simple and classy.