FREE DOMESTIC SHIPPING
ON ALL ORDERS OVER $100
Shop Location
13 County Road E.Freetown, Ma 02717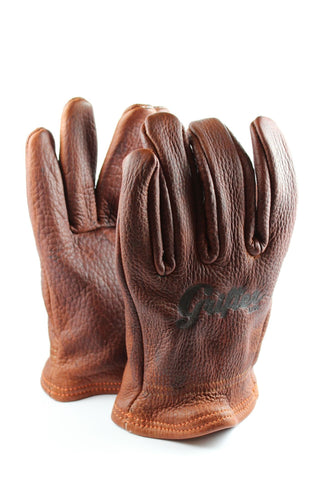 Grifter "Scoundrel" Gloves
$ 74.00
Brand Grifter
OUR GLOVES RUN SNUG ORDER A SIZE UP.
This short wrist American Bison glove is made in the USA. It is softer and a higher quality hide than our first generation Swindler. This glove also provides great tactile ness an dexterity. Each glove is hand antiqued and conditioned with an organic recipe. Each glove's appearance is unique; no Scoundrel is the same. The cuff is finished off with an extra strong orange stitching. If you want good looks and quality workmanship look no further than the Swindler glove by Grifter Company.
Size Chart
Measure around the palm
SMALL= 7-7.5"
MED = 7.5-8.5''
LARGE = 8.5-9''
X-LARGE = 9-9.5''