FREE DOMESTIC SHIPPING
ON ALL ORDERS OVER $100
Shop Location
13 County Road E.Freetown, Ma 02717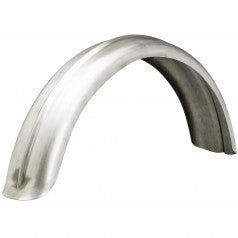 Lowbrow Customs Stingray Steel Fender-4.75" width
$ 149.95
Brand Lowbrow Customs
This classic style has been brought back from twisted, dilapidated swap meet finds, ready for mounting on your custom motorcycle. The raised center rib, flared duckbill and subtle stamped branding harken an earlier era.

- Available in 4-3/4" and 6" widths, in your choice of raw steel or aluminum.

- Radius fits 18" tires as well as vintage-style 16" tires.