FREE DOMESTIC SHIPPING
ON ALL ORDERS OVER $100
Shop Location
13 County Road E.Freetown, Ma 02717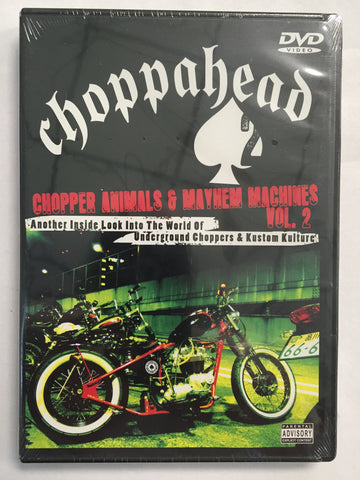 Sale
Chopper Animals & Mayhem Machines Vol.2
$ 19.95

$ 14.95

Brand Choppahead

Volume 2 continues on with the craziness of Choppahead, but also showcasing amazing bikes and hot rods.

From the back cover:

Forget all those drama queen and diva-esque superstar builders! Like its predecessor, this DVD pays homage to the true essence of Kustom Kulture-the home builder and the underground chopper scene! Follow the crew as they go out on location across the globe to spotlight some of the wildest home bike builders & customizers, small grassroots shops, and underground kustom motorcycle and hot rod shows. You'll get an inside look into the madness, ingenuity, debauchery, and shenanigans that surrounds this world. 

Over 3 hours of footage!! Music by Scissorfight,Blood For Blood,Fireball Ministry,Dixie Witch,Church of Misery, Death Killer,Hope Comspiracy,Doomriders and many more!!