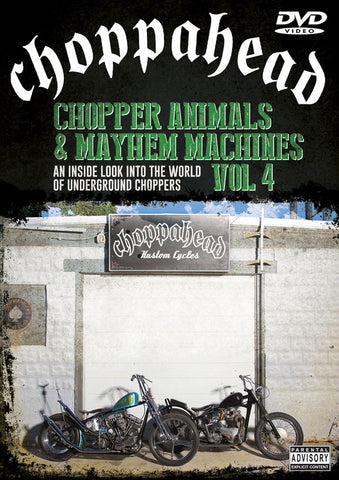 Chopper Animals & Mayhem Machines Vol. 4
$ 15.00
Brand Choppahead
After a 4 year hiatus - Choppahead returns with Chopper Animals Mayhem Machines Vol. 4!!
Check out interviews/profiles with the Choppahead crew, Chopper Dave, and other builders from Chicago, Las Vegas, New Mexico and all over the country! Plus see footage from bike events/chopper rallies, rides, and drunken shenanigans. 
This ones well over two hours PLUS plenty of bonus features and footage. 
From the back cover:
You're holding the 4th volume in Choppahead's award-winning documentary/video magazine series – CHOPPER
ANIMALS AND MAYHEM MACHINES.
This series documents and pays homage to the home builder and the underground chopper/custom motorcycle scene – the true essence of Kustom Kulture.
In this DVD you'll follow the Choppahead crew as they go out on-location and scour the nation to film and present hardcore real-deal motorcycle builders – the guys that build in their own garage/kitchen/living room/driveway/wherever – as well as some small grassroots shops, and underground motorcycle shows/rallies.
We give you an inside look into the madness, ingenuity, debauchery, and foolishness that surrounds this world!
FOR FANS OF:
HOME BUILT CHOPPERS AND KUSTOM MOTORCYCLES
CHOPPER SHOWS / MOTORCYCLE RALLIES
PUNK RAWK Oi!, & HEAVY METAL
SEVERE STUPIDITY & SHENANIGANS
SHOP APPRENTICE ABUSE!
Runtime: over 2 hours!
Region: 0 (ALL regions guaranteed - USA, Europe, Japan
OK!)